VMF Custom Products - All solutions for your business
VMF has developed over the years a competence that allows us to follow the customer in every phase of the life cycle of the product. Thanks to testing on materials and continuous updating, we are able to support the customer in all phases of development of an electric motor such as design (choice of materials and techniques of stamping and packaging that make the final product industrializable), prototyping (laser), launch and pre-series production (punching), development and maturity (progressive die).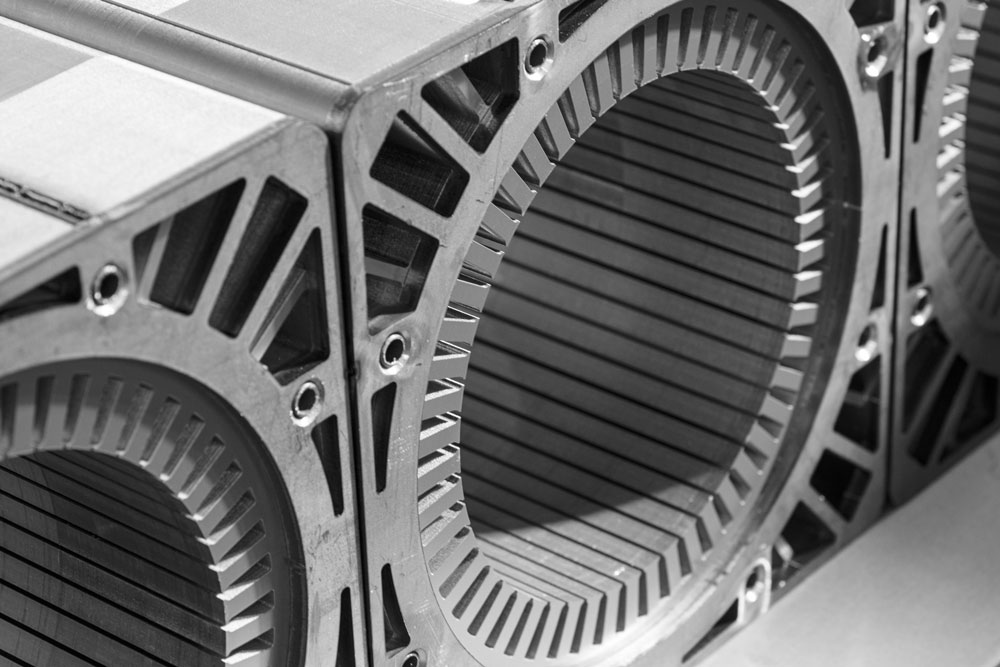 This translates into targeted investments for the customer, always proportional to the customers' needs: low sales volume corresponds to low investments, high sales volume corresponds to higher investments and productivity. On the contrary, production costs decrease as volumes increase, allowing a rapid pay-back time for expensive production equipment needed for large-scale production. This reduces the risks of failure typical of a new product and on the other hand allows to take advantage of innovative business opportunities in a short time and with low financial costs.
Process control
The stages of product processing
0
Engineering consultancy
During the design phase of a new product, it is essential to have a partner who is able to suggest to the designer the best choice of materials and processes to make the product industrializable on a small, medium or large scale. The competence of VMF's Technical Department, supported by a specific research laboratory, guarantees the industrialization of every new project with the maximum certainty of its future technical and commercial feasibility.
The single notching department has been one of VMF's strengths for more than two decades, guaranteeing the production of medium-to-large size special laminations. Thanks to our working techniques the customer can realize his production of special motors with reduced times and investments, avoiding the progressive dies, which have very high costs and times of realization. This is a more economical and productive solution than pure laser cutting and has acceptable lead times.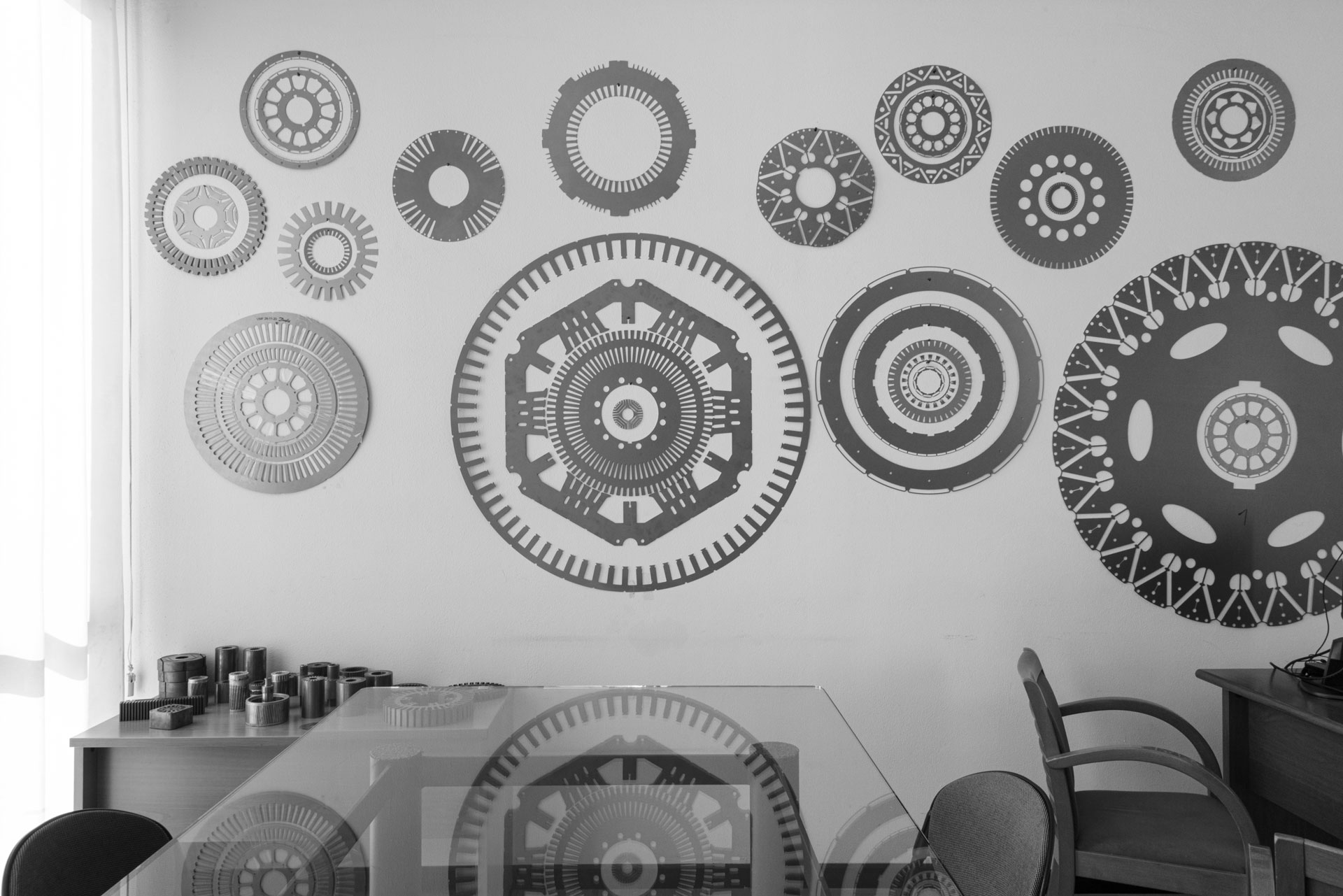 2
Prototyping with laser cutting
The know-how acquired by VMF together with its partners in the stamping of magnetic laminations using laser cutting (Fiber) and their relative stacking, allows the customer to count on solutions suitable for the prototyping of motors with low costs and maximum speed.

The solution of laser stamping combined with punching is not only one of the most cost-effective and fastest solutions for large motors, but also, from a quality point of view, an option that meets the highest standards, particularly for larger stacking heights.

Often the mixed solution of laser stamping and punching is also very suitable for mass production, avoiding the purchase of expensive block or progressive dies.
The stator packing is possible in these modes:
Cleating:

VMF machines are designed to cleat stator packs. VMF uses cleating machines between 20 and 40 tons of pressure. All our equipment is designed in-house and is designed to meet customer requirements, allowing us to cleat stators with different sizes, geometries and materials.
Welding:

VMF can automatically weld stators with TIG and plasma technology, using custom made equipment for the alignment of the internal slots of the stator, thus ensuring maximum quality and geometric tolerance (e.g., concentricity of the diameter). All stator packs are welded along the outer welding slots of the laminations. In case of special customer requirements, VMF is also ready to use MIG and MAG welding technologies.
Inclined stators welding:

thanks to its experience VMF can rely on several machines internally designed for inclined stator welding, from small sizes (MEC 80) to large ones (MEC 355). This gives customers greater flexibility in designing special products. (e.g., brushless motors)
The processing and manufacturing stages of the stators include more special packaging solutions:
Stators riveting:

VMF also offers packaging solutions involving riveting, by developing equipment for the application for the application of rivets inside the fixing holes made ad hoc in the laminations. Thus, specific equipment is developed for each customer in order to ensure the highest quality of the packages.

Backlack bonding:

The advantages of stators packaged using backlack bonding are increased efficiency of the electric motor, freedom of design, mechanical stability and accuracy of magnetic properties, reduced vibration and thus reduced noise.

Interlocking stacks:

Interlocking stacking is a stacking technique that occurs directly in the stamping die. Using electronics and servo motors makes it possible to realize stator packs of different heights.
VMF also aims to achieve the highest quality performance in the manufacturing of rotor packs, thus guaranteeing customers the performance of their motors.

Customers can choose from a variety of technical solutions with regard to rotor fabrication:
Aluminum / Silumin Die-casted Rotors:

This process produces the squirrel cage rotor with the short-circuit rings, cooling fins, and eventual pegs for balancing. Who relies on VMF can count on a fully automated die casting line with loading and unloading. VMF has developed a great know-how in induction rotor die casting over the years; as of today, there are eight horizontal-axis die casting machines, granting the capability to die cast rotors from diameter 50 mm up to 425 mm. VMF has more than 200 short-circuit dies that can meet every need when manufacturing rotors for industrial electric motors. VMF can, however, guarantee the rapid and low-cost design and realization of ad hoc short-circuit rings molds for special applications. Before the rotors can be die-cast, it is necessary to make the rotor pack based on the characteristics required by the customer (e.g., slot inclination and pack height), for which VMF offers several solutions:

• Interlocked rotors: interlocked rotors are packed directly inside the stamping die, ensuring the height and inclination of the slots through the use of brakes and servomotors as well as any compression of the pack once it has been removed from the die.

• Chamfering: In the case of blanking loose laminations, it is necessary to use die-casting pins. Chamfering of rotor packs is necessary to secure the laminations once the inclination of the slots is given. This process is an important added value of VMF because it allows the fabrication of rotor packs of large heights, holes, and diameters.

Brushless Rotors with Copper Bars:

In addition to more traditional manufacturing, VMF also offers special solutions for packing rotors:

• Backlack bonding: In VMF, backlack bonding technology is adopted by designing internally the most appropriate packaging equipment and using ovens with the appropriate thermal processes.

• Riveting: some special motors require the use of riveted rotors. VMF is able to meet its customers' requirements by designing specific riveting equipment.

• Welding: welding is a long-established process within VMF. Mainly used for stator packing, welding is also an excellent solution for rotors.

• Interlocked rotors: interlocked rotors are packed directly inside the stamping die, ensuring the height and inclination of the slots through the use of brakes and servomotors as well as any compression of the pack once it has been removed from the die.
Hole machining at VMF meets the customer's requirements regarding the fitting of the motor shaft into the rotor. VMF offers a variety of rotor hole machining including: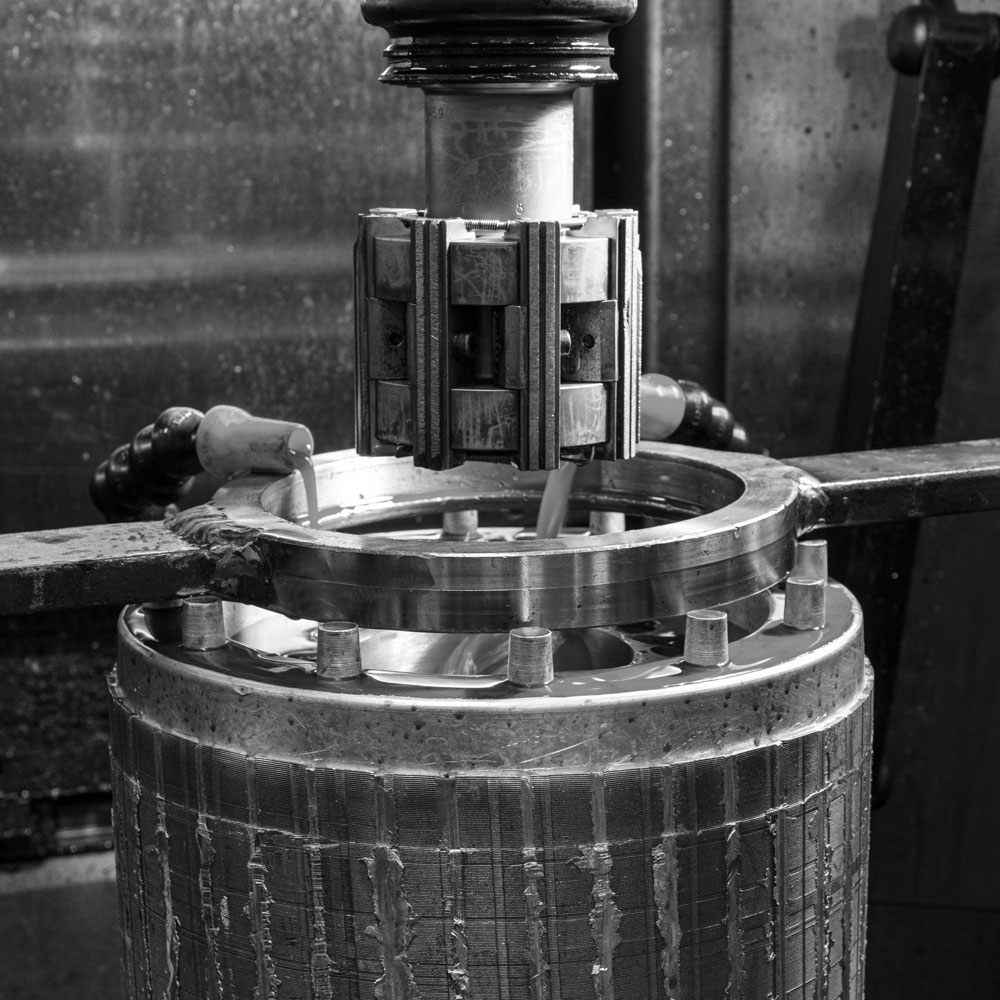 Honing
Which guarantees customers the maximum tolerance (D8) of the rotor axis hole. Honing is the process of maximum hole definition;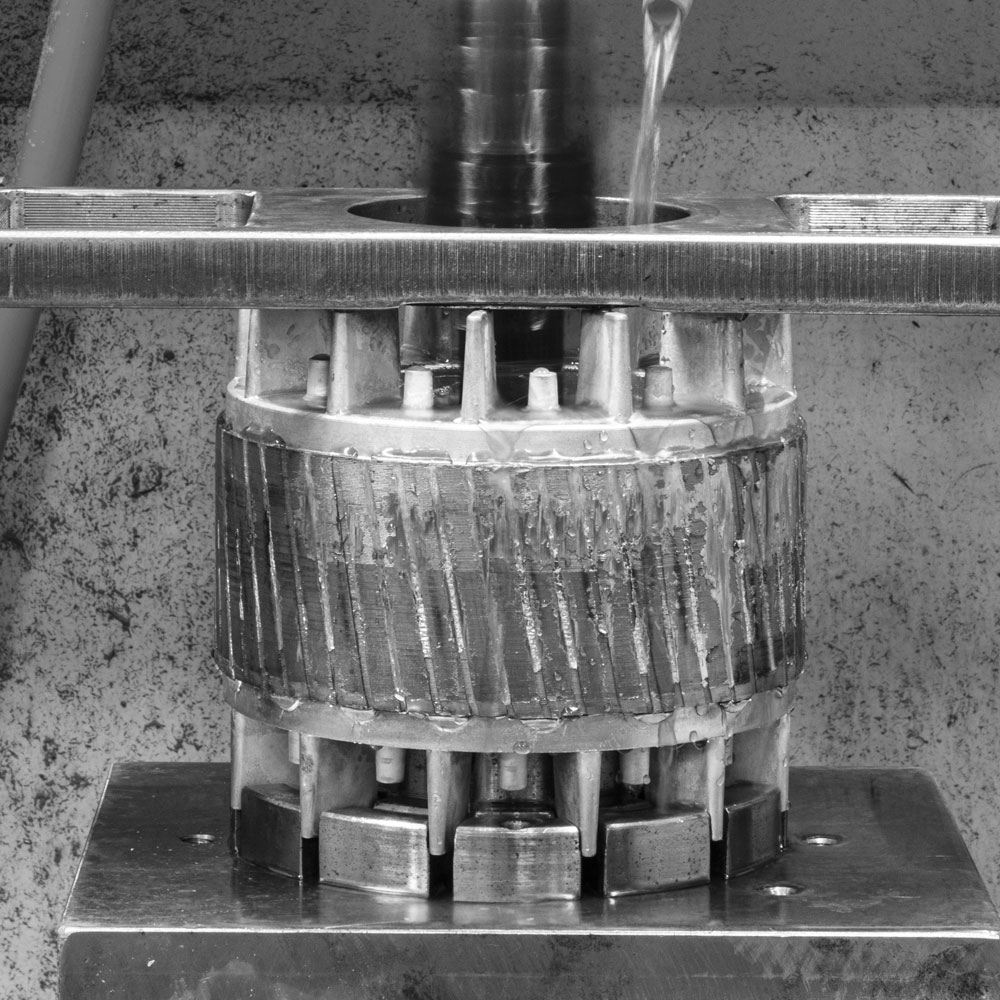 Boring
That ensures perpendicularity and cylindricity (geometric tolerance of shaft hole);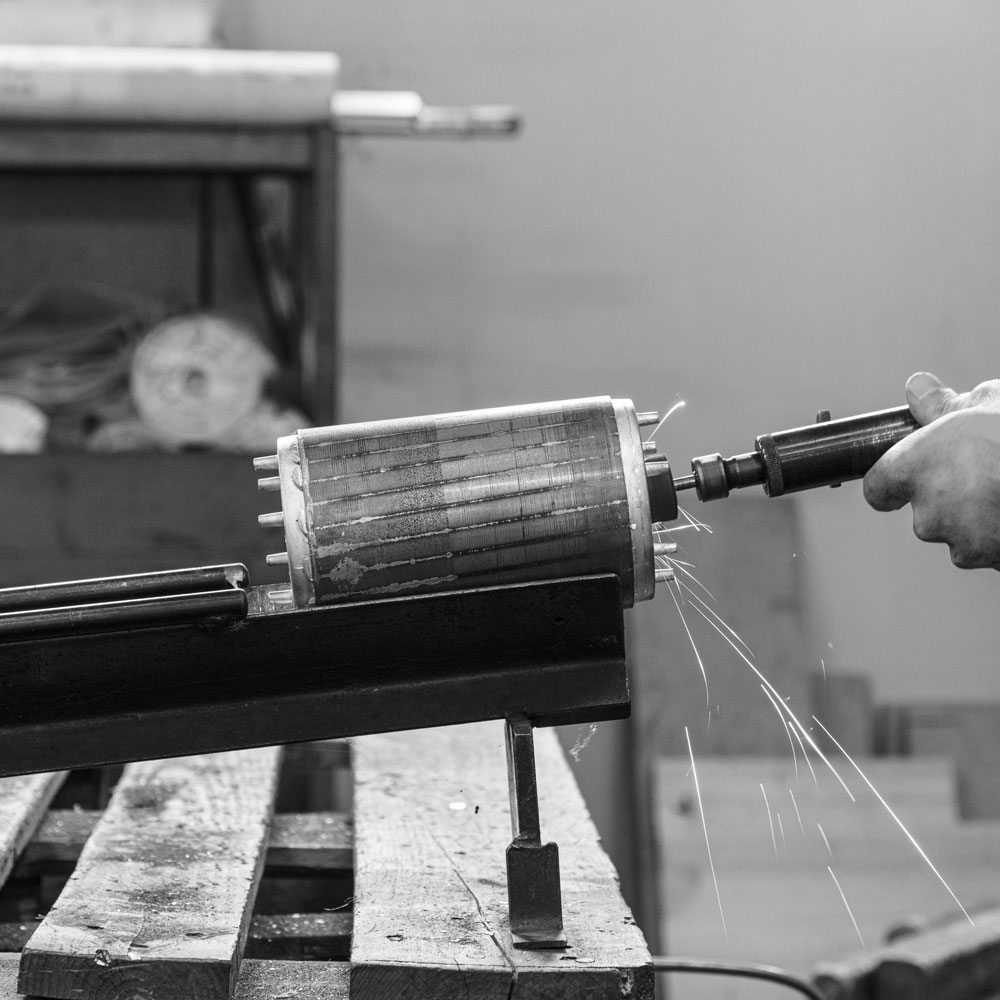 Broaching
That, through pressure, ensures geometric tolerance with the use of dowels/pegs.
6
Special silicon steel quality
VMF wants the highest quality from its products; for this reason, working with certified first class raw materials is essential in the production process. The silicon steel processed by VMF includes the entire range available on the market:


DC01 (EN 10130)
NGO semi-processed steel (420 50 HP K - M450-50 HP K - M660-50 K)
NGO fully -processed steel (da M235 fino a M800)
high frequency steel (NO18 - NO20 – HP)
The variety of silicon steel available gives customers a selection of steel qualities with different magnetic loss rates and insulation types. Furthermore, our stamping facilities are capable of processing different thicknesses from 0.1 mm up to 1 mm.
7
Production of progressive and single notching dies
The know-how acquired by VMF over the years has led the company to have expertise and a network of top-notch international suppliers in the construction of high-quality stamping dies for magnetic laminations. In particular, progressive dies, block dies, and punching dies made of carbide and special steels, with possible surface coatings, can be manufactured.

The customer who contracts VMF to manufacture a mold does not have to worry about anything: VMF will handle all the tool making processes, guaranteeing high quality standards, maximum performance, fast delivery times and competitive prices.

Internally, VMF performs ordinary and extraordinary die maintenance work such as grinding and restoration of the dies, maintaining their perfect functionality over time and taking advantage of their lifetime. A state-of-the-art tool shop with constantly trained technicians also provides the necessary flexibility to use dies with different configurations and matrix and thus stamping laminations with different geometries.